30 September 2020 | Matthew McCulloch
Scyras, Shiraz, or Scyraz? Syrah even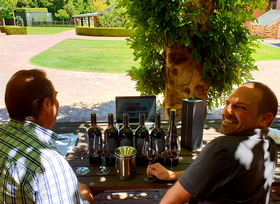 James and Leigh presenting an online tasting with international customers
We often reference our ancestors via our oral history and the written word. DNA provides further insights into understanding our lineage. The same principle for the Shiraz grapevine's heritage has helped shape one of the world's great wine regions, the Barossa.
Scyras, Shiraz, or Scyraz, some synonyms for the same variety, was first mentioned by Faujas de Saint-Fond in the eighteenth century; however, its origins stretch further back to the first century. It resulted from a spontaneous vineyard crossing between the near-extinct Dureza from France's Ardèche region and the Savoie region's Mondeuse Blanche. Both varieties are now more famous as Syrah's parents than their wines.
The wines of the Northern Rhône and the Cornas, Côte Rotie and Hermitage appellations, in particular, established Shiraz's reputation. In 1832, it arrived in Australia as part of the Busby Collection, comprising cuttings from the Garden of Luxembourg and the Montpellier Collection with Scyraz cuttings from the hill of Hermitage. It is also worth highlighting the MacArthur brothers, John, William and James. They imported cuttings from France in 1817 and propagated them at their family nursery at Camden Park, southwest of Sydney.
These two historic sources became the foundations of the Australian wine sector and gave Shiraz its first opportunity to thrive in its new homeland.
The Lindner family of Langmeil Winery is the custodian of two of Australia's most historic vineyards and is recognised as an old vine Shiraz specialist.
In the Barossa Valley, the Freedom vineyard in Tanunda (originally Langmeil village) is believed to be planted in 1843 by Christian Auricht, making it the world's oldest surviving Shiraz vineyard. Auricht and his family fled religious persecution seeking freedom of worship in the Barossa. The vines' roots run deep in the ancient Barossa dirt and have accumulated the knowledge of growing seasons past to become one of the Barossa's viticultural treasures.
James Halliday instructed, 'you should kneel in the presence of such a wine.'
Andrew Caillard MW wrote, 'The Freedom epitomises the vicissitudes and triumphs of fine winemaking.'
In the Eden Valley, an exceptional east-facing site is among the Barossa high country's oldest pre-phylloxera Shiraz vineyards. The Pure Eden vineyard, located in the Flaxman Valley sub-region, was planted during the 1890s from cuttings from the neighbouring Poonawatta vineyard, established by the Heggie family. The Lindner family took ownership in 2013 and has invested significant time and money in vineyard improvements.
Huon Hooke described Pure Eden as 'A riotously opulent Shiraz and very Eden Valley.'
Joe Czerwinski called Pure Eden Shiraz 'a knockout' and said, 'it's a terrific example of Eden Valley Shiraz.'
Comments
Commenting has been turned off.