Family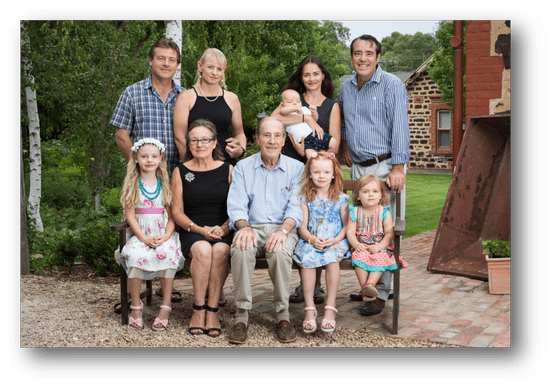 The Lindner Family
The history of Langmeil's Lindner family paints a rich portrait of farming, food, community and wine which can be traced back six generations to the central European region known as Silesia.
Johann Gottlob Lindner and his wife, Maria Rosine John, first arrived on the shores of South Australia to settle in the Barossa Valley in 1845.
An ancestor of Johan and Maria is fifth generation, Richard Lindner, who with his wife Shirley Della-Mina and sons Paul and James, are the current custodians of Langmeil Winery.
The combination of Richard's Silesian ancestry and Shirley's Italian heritage is at the core of this family's work ethic, community spirit and an undeniable love of food, wine, family and friends.
Both Richard and Shirley's family trees are dotted with generations of grape growers, farmers and butchers. While the grape growing families mainly grew grapes to appease a thirst for homemade wine and grappa (and to keep the neighbours happy!), grapes and the local wines were integral to life while pursuing their primary passions of farming and food.
The Della-Mina families farmed sheep, chickens, ducks and pigeons, with the neighbour always happy to deliver a warm tin of milk to the front door every morning.
The Lindner's spawned four generations of butchers and small goods producers, ensuring there was no lack of meat products, black pudding, fritz, mettwurst, sausages, sweet breads and offal on the kitchen table.
These resilient, rural qualities of Richard and Shirley's forebears, which also included vegetable gardens and cottage fruit and nut orchards, ensured no one went hungry.
It was Richard who decided grapes should became more than a backyard enterprise when he collaborated with two local mates to purchase the then derelict Langmeil property. While he still enjoyed the smell of a good butcher's shop, wine was now at the family's heart.
At Langmeil, the Lindner family strives for excellence in both the vineyard and winery, to produce wines that sit amongst the world's best at prices everyone can afford.
The renowned Australian wine writer, James Halliday AM, in his Australian Wine Companion, rates Langmeil a 'five red star' winery. In 2014 Langmeil's flagship wine, The Freedom 1843 Shiraz, joined the prestigious Langton's Classification VI honour roll in the 'excellent' category.
Today, Richard, Shirley, Paul and James continue to recognise the efforts of all who have helped shape Langmeil to become the world-class winery it is today.
Their legacy is to build on a foundation of excellence in wine, community and culture, which they hope the seventh generation will aspire to, maintain and build upon.
They also remain committed to preserving the foundations on which the property was built by its original settler, Christian Auricht, who founded the trading village of Langmeil and believed planted the Freedom vines in 1843.
Read Paul's bio here
Read James' bio here