VINEYARDS
At Langmeil, we are committed to making premium Barossa wine of the highest quality and believe the secret lies within the vineyard.
Biodiversity thrives amongst our dry grown vines to ensure each site is in balance with nature. Allowing such harmony with the natural environment is a responsibility we take seriously as custodians of the land.
Resurrecting Barossa's old vines is also an undertaking we continue to take in our stride since acquiring the notable, yet derelict, Langmeil property and its vines in 1996.
These vineyards, along with other family-owned sites in the cooler Eden Valley and southern grounds of Lyndoch are the foundation to all the wines bearing the Langmeil name.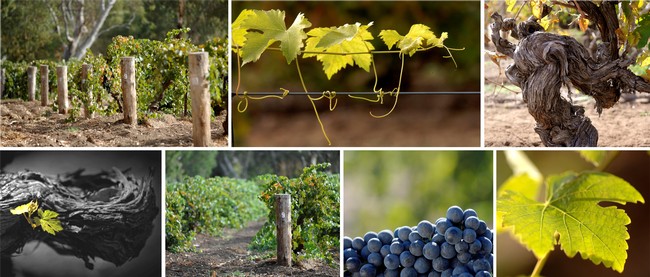 FREEDOM 1843 SHIRAZ VINEYARD
Soil: Dark, rich loam over limestone and ironstone to red clay over limestone and ironstone
Planted: 1843
Barossa Old Vine Classification: Ancestor vine 125+ years
Freedom is the name of a remarkable patch of vines that have stood the test of time. Today, this vineyard underpins Langmeil's and the Lindner family's dedication to old vine preservation and winemaking.
Firmly planted at the heart of the historic winery site, this one-acre patch of gnarly and proud, dry-grown vines is believed to be the world's oldest surviving shiraz vineyard planted in 1843.
Upon discovering this hidden treasure amongst the once derelict property, the vines were revived and dedicated to pioneer Christian Auricht who had fled his native Prussia for freedom from religious persecution. It was Auricht who settled the original Langmeil trading village in 1842, putting down his own roots in the Barossa soil and creating a home for his family, for generations to come. It is here that Auricht planted the Freedom vineyard as part of his mixed farm.
Predominantly planted on alluvial loam and red clay over limestone and ironstone, each vine's roots penetrate deeply into the layers of quarry sand and gravel in the underlying water table of Barossa's North Para River. In optimum vintages, it produces a low yielding crop of just two tonnes per acre.
From this vineyard Langmeil crafts a wine that sits at its pinnacle of winemaking, The Freedom 1843 Barossa Shiraz.
Read 'Foundation of our belief'
ORPHAN BANK SHIRAZ VINEYARD
GI: Barossa
Sub regional source: Barossa Valley and Eden Valley
Soil: Barossa Valley: red clay over limestone and ironstone. Eden Valley: decomposed granite, sandy loam
Planted: pre-1860's. Replanted: 2006.
Barossa Old Vine Classification: Survivor vine 70+ years
The nth degree could be an understatement when referring to Langmeil's plight to save 320 old shiraz vines from a date with a developer's bulldozer.
Originally planted pre-1860 in the village of Tanunda, these treasured vines are now known as the thriving Orphan Bank vineyard, planted on Langmeil's south bank of the North Para River following a successful transplantation in 2006. It was a first for Langmeil, and a first for the Barossa.
It took 18 months to re-plant the surviving 320 vines, transported one by one with an incredible 95% success rate. The site's predominantly rich alluvial loam over limestone ensured ease of penetration for root development and a post-transplant harvest as early as 2008.
The existence of this vineyard is tribute to Langmeil's commitment to preserving the old vines of Barossa and to its loyal community of vine adoptees who helped ensure the vineyards relocation and survival in Langmeil's care was a success.
The Old Vine Garden Orphan Bank Shiraz is made from and named after this vineyard.
Watch the Orphan Bank Video
JACKAMAN'S CABERNET SAUVIGNON and THE FIFTH WAVE GRENACHE VINEYARDS
GI: Barossa Valley, Lyndoch
Sub regional source: southern reaches of Barossa Valley
Soil: Deep sandy soils with slight elevation
Planted: 1964 and 1973
Barossa Old Vine Classification: Old vine 35+ years
Situated in the southern grounds of the Barossa Valley on the outskirts of Lyndoch, this property is the primary source for two of Langmeil's Old Vine Garden Wines.
The Fifth Wave Grenache vineyard was planted in 1973 on deep sandy soil. With a slight elevation, this dry grown 4.5-acre vineyard produces a rare, low yielding crop between 1-1.5 tonne to the acre.
The adjoining 1 acre Jackaman's Cabernet Sauvignon vineyard was planted in 1964 on a site consisting of darker loam and produces a harvest of 1-1.5 tonne. Of note, it was Arthur Jackaman's foresight to plant Cabernet Sauvignon at the time which helped kick start an era that changed the Barossa's focus from fortified winemaking to table wines.
The wonderful diversity of soil profiles makes our Lyndoch vineyard an ideal property for the planting of a range of varieties, including Shiraz and Viognier.
PURE EDEN SHIRAZ, WATTLE BRAE RIESLING and HIGH ROAD CHARDONNAY VINEYARDS
GI: Eden Valley
Sub regional source: Eden Valley
Soil: Grey sandy loam (decomposed granite) over sandstone, ironstone and granite
Planted: 1890's
Barossa Old Vine Classification: Centenarian vine 100+ years
Believed planted by Charles Angas in the 1890's, this high country old vine vineyard has been nurtured by an impressive roll-call of Barossa's grape growing families throughout the decades, including the Shiltons 1911–1926; Meakins 1926-1929; Roeslers 1929-1961; Andretzkes 1961-2011, and now the Lindner family.
A recent acquisition to Langmeil's old vine vineyard registry, this site represents the winery's affinity with Eden Valley to make wines that harness its later ripening fruit characteristics, and to be a quality fruit resource for all of its winemaking future.
Notable wines from this Eden Valley vineyard are the Old Vine Garden's newest additions; Pure Eden Shiraz (made from 1-acre of vines planted 1890-1900) and Wattle Brae Riesling (patch planted 1969-70), along with the popular High Road Chardonnay (planted 1979-1980) and zesty Live Wire Riesling (planted 1980). There is another 2-acre planting of shiraz, circa 1910's.
OUR GROWERS
The Barossa has a thriving community of grape growing families, some of which can count six or more generations who have tended the same patch of vines since the Barossa's settlement in 1842.
While Langmeil has expanded its own vineyard interests since acquiring the property in 1996, it's these grape growers that have been at the core of Langmeil's winemaking since day one.
Their knowledge is valued and relationships are cherished. Such families, we believe, are the jewels in the crown to this unique region and the backbone to its success as a great and enduring agricultural community.
These 700 family grape growers cover the whole of the Barossa, from the Valley floor's northern, southern and central grounds, to the Eden Valley and High Eden. Such breadth and diversity allows Langmeil to secure prime fruit from a multitude of sites, bringing a vibrant and multi-regional dimension to our wines.
A fine example of a wine that encapsulates the depth and breadth of our growers is the Valley Floor Shiraz, made from fruit grown by over 20 families from many of the Barossa's 30 original villages or parishes.