12 January 2023 | Trish Barry
Langmeil | Accommodation guide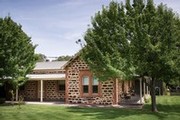 ​
The Crossing Cottage- Langmeil Winery
The Barossa Valley is rich with history and beautiful places to stay. If you are searching for accommodation for your trip, there's plenty of options to enjoy. Spend as much or as little time as you need in our spectacular region – there's so much to do. Fill a weekend exploring the little townships that make up the vast wine landscape, or enjoy a week discovering the finest wine, food and activities that make us one of the most popular places to visit in South Australia.
The Lindner family have been in the Barossa Valley for generations, which makes us perfectly equipped to share some of our local treasures and businesses who we love to support. Take a look and enjoy a small snippet of some of the best accommodation that the Barossa Valley has to offer.
Small Self-Contained Accommodation – Barossa Valley
The Barossa started off as a series of villages, so it's fair to say that there's certainly a range of accommodation options to choose from. If you're looking for quaint self-contained, here's a few places to add to your list.
The Crossing, Langmeil Winery
We may be biased, but our historic cottage, lovingly known as the Crossing (link to /About-Us/The-Crossing) has to be on the top of your list. This is our original winery cottage which has been magnificently restored. We can accommodate four people in the two bedrooms, with breakfast and self-catering options. Enjoy the pool in the warmer months or sit back and admire the historic premises. It's something unique and, it goes without saying, includes a wine tasting.
Cnr Langmeil & Para Rds Tanunda
Langmeil Cottages
Located in the town of Tanunda, and a short stroll from our winery, these gorgeous red brick Langmeil Cottages (link to https://www.langmeilcottages.com/ ) are an idyllic choice. When you're not exploring the delights of the region, perhaps by the free bike rental available, relax with a therapeutic spa or float in the pool. You'll also have access to hearty breakfast provisions provided by your hosts. Plus, there's a long list of excellent bakeries and restaurants just down the road to truly satisfy the taste buds.
89 Langmeil Road, Tanunda
Barossa Pavilions
If a little bit of nature is calling you, these six independent Barossa Pavilions (link to https://www.barossapavilions.com.au/) villas are for you. Located a stone's throw from Lyndoch, you can enjoy sweeping views of rolling hills and vineyards, while not compromising on privacy or comfort. For something truly spectacular, The Glasshouse is a multi-award winner, and has featured on Grand Designs Australia (link to https://www.dailymotion.com/video/x6hp4en ). It won't fail to impress.
221 Yaldara Drive (Cnr Fuss Rd), Lyndoch
Stonewell Cottages
Why visit a winery when you can stay on one? These beautiful Stonewell cottages (link to https://stonewellcottages.com.au/ ) are located on the Stonewell Vineyard, a private 104-acre property, just 4km from Tanunda. Enjoy waterfront views and ever-changing vines while you dine alfresco. Or perhaps an in-room massage and candle-lit spa to aid your rest and recharge. While there is so much to explore in the region, the relaxation offering at Stonewell is just as compelling.
373 Stonewell Road, Stonewell, Tanunda
Luxury Accommodation Barossa Valley
Thinking Luxury? We have some of the finest places to stay in Australia right here on our doorstep and the options keep expanding. World class accommodation awaits, many which also have restaurants attached. The perfect place to escape to after a long day tasting wine.
Tanunda House
Weddings, private functions, or a little bit of family time – Tanunda House is a showstopper, no matter the occasion. With a concierge at your service, you'll be sure enjoying every moment of your personalised stay at this incredible property. Enjoy a dip in the pool, a hit of tennis or spend your time raiding the large underground wine cellar for the perfect drop.
40 Maria Street, Tanunda
The Louise
If luxury is the order of the day, look no further than recently renovated 'The Louise'. With all the hallmarks you expect, infinity pool over-looking the vines and world-class dining, plus plenty of extras – breakfast with the 'roos anyone? The ideal luxe getaway base to explore from.
Cnr Seppeltsfield and Stonewell Roads, Marananga
Cambourne
Get up close and personal with one of the Barossa's most famous exports – shiraz! A stay at Cambourne grants you views across premium shiraz vines to accompany your relaxation time. Self-contained luxury set upon a 25-acre vineyard, you'll have plenty of inspiration to taste the local goods while enjoying the finer things on offer.
799 Seppeltsfield Rd, Seppeltsfield
Maggie Beer's Orchard Accommodation
Stay, eat, wander, and eat some more – what else would you consider getting up to at Maggie Beer's? Maggie's Orchard House is a must for fans and foodies alike. Enjoy the House to yourself, and take in all the sensory wonders of the working orchard.
50 Pheasant Farm Road - off Samuel Road, Nuriootpa.
Hotels and Motels
For larger groups, and short stays, there are a range of award-winning options at your fingertips.
Novotel Barossa
Guests who have been to a conference in the Barossa often stay at the award-winning Novotel ( link to https://www.novotelbarossa.com/). Winner of the 2022 South Australian Tourism Award you can be assured you're on to a good thing. With plenty of different rooms and activities on offer, it's a perfect option for families and larger groups.
42 Pioneer Avenue, Barossa Valley
The Wine Vine Hotel
Location, location, location! Situated in Tanunda, often described as the heart of the Barossa, the Wine Vine (link to https://thewinevinehotel.com.au/ ) is the perfect base for exploring our region. Family-friendly rooms are available if you're travelling with the clan, and the staff are always on hand to recommend their 'must-do's during your stay.
182 Murray Street, Tanunda
BOOK IN FOR A WINE TASTING
When you've booked your accommodation, don't forget to book in a tasting at our Cellar Door /Experience/Historic-Cellar-Door whilst you are in the Barossa. You can pop in for a complimentary tasting, or indulge your wine senses with one of our luxury experiences like our Freedom Tasting /Experience/The-Freedom-Experience, sampling wine sourced from some of the oldest shiraz grapes in the world. It's an experience like no other, as you can read from the reviews by guests on our TripAdvisor page https://www.tripadvisor.com.au/Attraction_Review-g495039-d1544858-Reviews-Langmeil_Winery-Tanunda_Barossa_Valley_South_Australia.html. We hope to see you on your travels.
Keen to know more about the Barossa Valley? Here's some other local tips that may be of interest:
The History of our Historic Langmeil Freedom Vineyard (link – working on it)
Best Restaurants in the Barossa Valley
Comments
Commenting has been turned off.