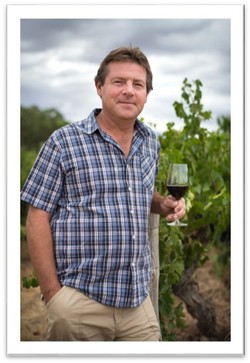 Paul Lindner, Langmeil Family Winemaker
Langmeil's family winemaker, Paul Lindner, is one of the shining lights of contemporary Barossa winemaking.
Being the sixth generation Barossan with Italian and German heritage, may explain his love and intuition for making wine.
Paul's connection to wine started as a youngster picking grapes for his Italian great-grandmother at 20cents a bucket and the promise of a big bowl of pasta. It was here he observed his Italian grandfather turn grapes into wine, which on the occasional year was enhanced with a dash of lemonade.
Soon the demise of the wine industry came with the turbulent 1980's and one of the Barossa's darkest periods, being the South Australian Government's Vine Pull Scheme. Many people left the region in search of other employment, with Paul finding work as a mechanic.
His return to the Barossa came in the early 90's bringing the start of a life changing job as a cellar hand at Orlando Wines (Jacobs Creek). Here Paul was selected to study a two-year cellar procedures course on 'vine to wine' at TAFE (Technical and Further Education College), where he topped the class.
Paul also commenced some of his own 'practical studies' in the back shed. Here, with a band of great mates, he made his first wine known as Shed Red. Paul recalls showing the 1996 Shed Red Cabernet Sauvignon to the late Peter Lehmann, who said, "Paul, if you can make wine like this, I think you may have a bright future."
It was these words of encouragement that inspired Paul to become the Langmeil family winemaker.
Paul's passion for winemaking has always been to combine the techniques of the old world and new world with minimal handling and intervention, to ensure the fruit's full potential is captured. By keeping true to the subtleties derived from the varying yet distinctive microclimates of Langmeil's vineyards, Paul feels he can capture the true taste of Barossa.
He has earned the respect of many, and his wines are evaluated to critical acclaim by the world's wine judges and media, including five red stars in the James Halliday Australia Wine Companion, and a classification of 'Excellent' for The Freedom 1843 Shiraz amongst Australia's elite in the Langton's Fine Wines Classification Vl.
Amongst all this, Paul remains focused at being another of the Barossa's winemakers helping to further the region's pedigree, and showcasing why the Barossa is truly one on the world's great wine regions, and a community Langmeil remains true to, and proud of.
Paul is married to wife Natalie who share two daughters, Mackenzie and Bridget. He trusts his efforts will help inspire this next generation of the Lindner family to follow into an industry that continues to bring him great pleasure.
Today Paul is a veteran of over twenty vintages, yet his knowledge, passion and attention to detail continue to evolve. This experience at the helm of our winemaking has undoubtedly helped position the Langmeil name and its wines on the world's wine stage.