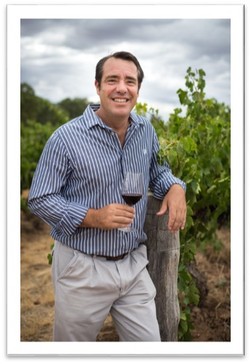 James Lindner
Ask James Lindner what he does and he'll probably confess to being a revealing storyteller, wine drinker and ardent advocate of his beloved Barossa.
As a sixth generation Barossan, James' roots originate with the first Silesian migrants who settled the region after fleeing religious persecution in their homeland.
His ancestors were butchers; four generations in fact, yet it was his father, fifth generation Richard Lindner, who pursued the family's known appreciation for wine, inspiring James and his older brother, Paul, to do the same.
James' expertise in wine has been built from the ground up, shaped by his love of the Barossa and the vineyards, wines and people that define it.
It began at Orlando in Barossa's Rowland Flat, working on one of the most contemporary bottling lines of its time.
Vintage soon called, when he landed a job with Yalumba, crushing fruit and operating the earth filter. After a stint in the cellar, James joined the Cellar Door and was soon selling Yalumba's fine wines in Adelaide.
When travelling in Europe James' exposure to and appreciation of the world of wine soared when he represented Yalumba at the London International Wine Fair and worked for UK leading wine retailer, Oddbins.
1996 saw James return to the Barossa to be closer to his family's wine business, Langmeil, and to purchase his own parcel of land to learn first hand about caring for the vines.
He joined Langmeil in 1998, starting in the vineyard and winery, before returning to his first love of selling and talking about wine in both the Cellar Door and on the road. Langmeil's sales and distribution soon became his sole focus when he stepped into the position of Sales and Marketing Manager.
Today James is a Family Proprietor/Director of Langmeil with his parents and brother, while continuing to oversee its sales and distribution both domestically and around the world.
For James, the opportunity to work with his family in the wine business is something he holds in the utmost regard. It has afforded him many opportunities to travel the world and meet like-minded people, while reinforcing how privileged he feels to live in such a beautiful part of the world.
With partner Georgie, daughter Mia and son William, James lives a rural life surrounded by the lifestyle and community that has helped shape the region.
James' personal passion is to continue the efforts of previous generations who worked tirelessly with unwavering foresight to leave the Barossa in a better condition for future generations.