Hello there,
Rather than a monologue, I've always considered these emails to be, in essence, a two-way communication – a continuing conversation with the loyal legion of Langmeil lovers. I love to receive responses, knowing that people have taken the time to read my words, perhaps offer their own insights and, best of all, have been prompted to pose a question or two. In furthering the conversation from my last email, a common line of enquiry emerged around what differentiates a medium-bodied from a full-bodied wine and why we might consider our Black Beauty Malbec the former while another winemaker may think their Malbec the latter of the two descriptors - pondering such questions brought to mind a classic dialogue in Tolkien's, The Hobbit in which Bilbo said 'Good morning' to Gandalf and received the following reply, 'What do you mean? Do you wish me a good morning, or mean that it is a good morning whether I want it or not, or that you feel good this morning, or that it is a morning to be good on? What a lot of things you do use good morning for!'
With wine, as in life, things are seldom black and white. When terms like full or medium-bodied get bandied about, it may mean different things to different people depending on their palate and previous experiences of variety and regions. From a palate perspective, a wine's body generally reflects the weight or texture in your mouth informed by factors such as alcohol, acidity, fruit concentration, residual sugar, tannins and grape variety. A full-bodied wine may taste more complex, with a sense of grip on the palate and lingering flavour. Varieties like Shiraz and Cabernet Sauvignon spring to mind. A light-bodied wine, in contrast, would come across as fresher, thinner with less after-taste or length; think a Riesling, rosé or maybe a Pinot Noir. Medium-bodied falls somewhere between the two and, therefore, more subject to interpretation hence questions about where a Malbec may sit!
Regionality can further muddy the waters. As a case in point, renowned critic, journalist and wine writer Jancis Robinson MW has described the French style of Malbec typical of the Libournais (Bordeaux) as a 'rustic version of Merlot, softer in tannins and lower in acidity with blackberry fruit in its youth' in contrast to the south-western Cahors region where she considers Malbec' much more tannic with more phenolic compounds that contribute to its darker colour and robust nature.'
Perhaps the key to enjoying wine is avoiding generalisations (including this one!) and seeking firsthand experience to draw one's own conclusions. To aid in this endeavour this week; we've returned to traditional Barossa varieties assembling a trifecta of a medium, medium to full and a full-bodied wine from which to select and dissect! [Click HERE to seek your body type].
Wishing you a good day,
Jonathan Bitter
Cellar Door Manager
---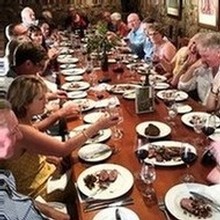 And here's something else many of you have all been waiting for!
The Langmeil Long Table Lunch series
is back on!
We start with our Spring Celebration on 1st September, followed by our Old Vine Garden Launches on 20th 27th October and then our Summer Celebration on the 1st December.
Click HERE to book.
---
---
Share the love and forward this email to a friend 😁