to access the Members only Special Offer page



It's all about Grenache!
---

2022 Live Wire Riesling
just won a
TROPHY
at the
2022
CANBERRA
INTERNATIONAL
RIESLING
CHALLENGE
with a score of 97 points.
Purchase HERE or get yours at:-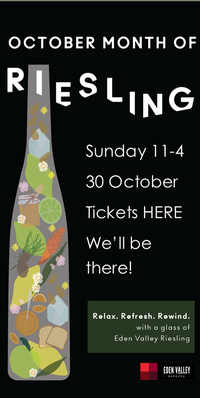 ---
VINTAGE ROLLOVERS
We have rolled over onto our
2022 Bella Rouge Rosé
2020 Valley Floor
2019 Kernel Cabernet Sauvignon
And very soon will rollover onto
2019 Blacksmith Cabernet Sauvignon
---

All our large format bottles are available in our online shop.
There are 1.5Ltr Magnums, 3Ltr Double Magnums and 6Ltr Imperials from our Old Vine Garden Collection and Valley Floor Shiraz, including back vintages.



Hello
'There is magic in the old and magic in the new; the trick is to successfully combine the two.'
Alexander Posey
Not so long ago, Grenache was the most planted red grape variety in the world. It was the most widely planted variety in Australia until the 1960s, mainly used in fortified wines. Then, with the shift to table wines, it slipped into the shadow of Shiraz and Cabernet Sauvignon. Thankfully its star is in the ascendency once more.
A workhorse in Australia's fortified wine industry, Grenache has flourished in our soils since the 1840s. It's not that it went away in the 1960s; people often didn't know they were drinking it. In combination with its better-known colleague, Shiraz, I'm sure many of you enjoyed a 'Burgundy' or two over the years! With label integrity coming into force and the increasing sophistication of the average wine consumer, Rhône style wines became popular, and Grenache stepped out of the shadows as the G in the classic GSM blend.
Maligned by some and misunderstood by others, Grenache has a lot going for it, not least its versatility amongst a wide range of qualities. Historically, its vigour and prodigious yield lent themselves favourably to growers seeking volume for large-scale fortification. From a table wine perspective, such overcropping could lead to somewhat simple and basic wine that belied its ability to produce quality. However, in places like the Barossa, the combination of some of the oldest Grenache vineyards in the world and viticultural practices aimed at restricting yields result in a plethora of quality everyday drinkers through to classically structured age-worthy wines.
The changing appreciation for Grenache is exemplified by our own experience here at Langmeil Winery. It has always been a cellar door favourite, and we have offered a Grenache since the 1995 vintage (if you recognise the label, you've been around as long as I have!). Unable to try before you buy, bottle shop and restaurant sales faced the often insurmountable hurdle of punter preconceptions, resulting in stock diverted to the cellar door. Once there, a simple taste swiftly allayed any visitors' reservations. Times have certainly changed. So much so that while we now produce two single-varietal Grenache wines (plus a GSM), I now have to share stock allocations with the broader domestic and international markets. Still, selling out is not the worst problem to have!
Whether a long-time fan, new appreciator or cautious observer, we trust that the cross-section on offer in this week's focus on Grenache will have something for everyone. Follow this LINK to peruse our range of Grenache wines. The Old Vine Garden Fifth Wave, the 2022 Royal Adelaide and Barossa Wine Shows gold medal-winning Rough Diamond, and (in the opinion of this humble scribe) the best value-for-money wine in our range, the Three Gardens GSM.
It's a kind of magic!
Jonathan Bitter
Cellar Door Manager
---
The Old Vine Gardeners Club
A once a year investment. With just one delivery in October the Old Vine Gardeners Club gives you the opportunity to receive a boxed pack which includes one each of the Old Vine Garden wines (you can choose to receive two packs if you wish.
The Old Vine Gardeners pack will be the only way to ensure an allocation of these wines with a minimum of 10% off and free delivery. Old Vine Gardeners will also enjoy a 10% discount and free delivery on all purchases on-line and in cellar door, winery updates, and invitations to Langmeil Winery events Australia-wide. Members can also enjoy all limited release and 'not available for tasting' wines (by appointment only).
---
OUR CELLAR DOOR TASTING IS A SEATED EXPERIENCE

As seating is limited, please pre-book your Cellar Door visit to avoid disappointment on arrival. Call us on 08 8563 2595 to book, and you might like to book in for one of these experences:-
Hosted by Jonathan and includes a tour
and tasting. $150 per person.
Allow up to 3 hours.

Hosted in the Freedom Room by our
experienced staff. $50 per person.
Allow an hour