to access the Members only Special Offer page
---
LANGMEIL
WINE
DINNER
Seafire on the Marina
at Glenelg.
Wednesday 24th August
6:30 pm
$150 ticket

---

All our large format bottles are available to purchase from our website in the on-line shop.
These are our 1.5Ltr Magnums, 3Ltr Double Magnums and 6Ltr Imperials for our Old Vine Garden Collection wines and the Valley Floor. It also includes back vintages.




---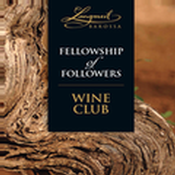 September will mark the Spring Wine Club despatch for our Zealous and Seasonal Wine Club members.
Please let us know if you have changed your address or credit card details, or log in and up-date your details on-line.
We can add additional wine to your delivery too, just let us know what you would like.

---
Product rollover
We are on the very last of the 2017 Hallowed Ground, just 3 dozen left and the 2018 vintage is ready to go.
Get your 2018 Blacksmith Cabernet now for $30 a bottle. When we move to the 2019 vintage, expected to happen in around 2 weeks, it will increase to $35 a bottle.
The 2022 Three Gardens Viognier Marsanne Roussanne will be available from October.
And just so you know - we are definitely out of Christian's Journey Shiraz and Gentry Cabernet Shiraz. We are no longer producing these wines.
Hello
'Without black, no colour has any depth. But if you mix black with everything, suddenly there's shadow - no, not just shadow, but fullness. You've got to be willing to mix black into your palette if you want to create something that's real.'
Andy Warhol
Who would have thought that vinyl records would make a comeback? To some, they never went away, which in my case is handy for my young adult sons who've recently purchased turntables and are surprised to find a few gems in Dad's LP collection. Yet another example of 'everything old is new again' and so too with wine. Discerning wine lovers are increasingly adding Malbec to their repertoire and, in the process seeking to learn more about its story. Unfortunately, many don't get past Mendoza. Understandable as more than 70% of the world's Malbec now hails from Argentina. According to French ampelographer and viticulturist Pierre Galet, it probably originated in northern Burgundy. It could be what the Romans called 'the black grape' around 58 BC when a rising General Julius Caesar set out to conquer the region known as Gaul. It gained prominence in Medieval times as the 'black wine of Cahors', a reference to a wine made by heating the grape must before fermentation. The royal court of England highly favoured the resulting concentrated, rich black wine. Malbec was historically significant in Bordeaux, providing colour and fruit to its blends. However, in the 20th century, it lost ground to Merlot and Cabernet Franc.
No stranger to South Australians, having grown here since the 1860s, Malbec is again on the radar of fuller-bodied red wine appreciators. Langmeil Winery's contribution to the latest revival is our aptly named Black Beauty, an age-worthy, deeply coloured, rich and smooth wine. Deep crimson with purple hues and a juicy palate of blue fruits with herbal spice and savoury tannins. Whoa, Black Beauty (bam-ba-lam) even.
Speaking of 'black' traditions originating in Europe, when German Lutheran immigrants Johanne Pfeiffer and Christian Auricht married here in the 1840s, in keeping with the custom of the time, Johanne wore a black wedding dress. The black bridal gown is said to have represented commitment until death. Sadly, when Christian died in a horse and wagon accident in 1860, Johanne became a widow, remaining unmarried until her passing some 35 years later. Named in her honour, we are thrilled to announce, in limited release, our new Black Widow blend, an intriguing marriage of six southern French varieties. Deep purple, the 29% Mourvèdre, 29% Petite Sirah, 15% Shiraz, 14% Carignan, 11% Counoise, and 2% Cinsault deliver a medium-bodied palate of juicy raspberry and boysenberry balanced by sweet and peppery spices and youthful, firm yet velvety tannins. Black velvet with that slow southern style, if you please.
If you are keen to take a leaf out of Mr Warhol's book and add a little black to your palate, follow the link HERE to our members-only page, and you too can be back in black. Sack optional.
Yours tenebrously,
Jonathan Bitter
Cellar Door Manager
---
Cellar Door tasting is a seated experience

As seating is limited please pre-book your visit to our Cellar Door to avoid disappointment on arrival. Call us on 08 8563 2595 to book, and you might like to book in for one of these experences:-
Hosted by Jonathan and includes a tour
and tasting. $150 per person.
Allow up to 3 hours.




Hosted in the Freedom Room by our
experienced staff. $50 per person.
Allow an hour