to access the Members only Special Offer page
---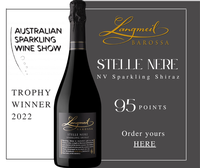 Stelle Nere NV Sparkling Shiraz
Get yours HERE
---
VINTAGE ROLLOVERS
There is limited stock of the platinum medal-winning 2019 Valley Floor on the Member's page - don't miss out.
-
2018 Hallowed Ground.
~95 Points The Real Review Huon Hooke, June 2021
~92 Points The Wine Front, May 2022
~Gold at Berlin Wine Trophy, April 2022
~'Highly Recommended' Australian Wine Guide, April 2022
~Silver at Lond Wine Competition, June 2021
~4.5 Points Cuisine New Zealand, March 2021
-
October will see the release of the OLD VINE GARDEN collection; the only way to guarantee an allocation is by joining the
OLD VINE GARDENERS club.


---

All our large format bottles are available in our online shop.
There are 1.5Ltr Magnums, 3Ltr Double Magnums and 6Ltr Imperials from our Old Vine Garden Collection and Valley Floor Shiraz, including back vintages.




---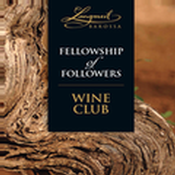 September marks the Spring Wine Club despatch for our Zealous and Seasonal members.
Please let us know if you have changed your address or credit card details, or log in and update your details online.
We can add additional wine to your delivery too, just let us know what you would like.

Hello
'I don't see too many around like this,
Oh no, not many like this,
In the valley I walk, who will take me there?'
Midnight Oil
Iconic Aussie band Midnight Oil's song In the Valley is both the story of several generations of lead singer Peter Garrett's family and in the broader context of how far Australia has come in a relatively short time. It speaks of those who have helped shape us and asks who will lead into the future.
In the context of Langmeil Winery, our Valley Floor Shiraz performs both these roles. Created in 1997, the Valley Floor represents the founding principles of Langmeil Winery's owners, the Lindner family, a sixth-generation Barossa family with an inherent regional knowledge only time and immersion can impart. For winemaker Paul, it also represents the very essence of the Barossa as fruit is sourced from vineyards across the length and breadth of the region, bringing elements of each into the wine to produce a flavour profile that truly encapsulates the Barossa as a whole.
Coming from what was at the time the lowest yielding vintage for twenty years, the 2019 Valley Floor is unusually the product of less than 10% Langmeil Winery grown fruit with the balance from twelve local growers and comprised of twenty individual parcels. As in every vintage, the wine was handmade, with each vineyard parcel kept separate to express its unique flavours. The fruit was de-stemmed but not crushed, open-fermented, and basket pressed before individual maturation of the components in American oak barrels for 24 months.
This holistic approach results in both an accessible and genuinely remarkable wine by global standards, as attested by its performance in the 2022 Decanter World Wine Awards. The world's largest and most influential wine competition, this year saw 18,244 wines from 54 countries assessed across two weeks by 237 judges, including 54 Masters of Wine and 16 Master Sommeliers. Deemed by the judging panel to be the best in their respective regions, just 163 wines received platinum medals, 15 of these from Australia, not the least of which being Langmeil Winery's 2019 Valley Floor Shiraz!
At $180 delivered for a celebratory six-pack, I don't see too many around like this, so let the link to our special offers page take you there.

Walking with you In the Valley,
Jonathan Bitter
Cellar Door Manager
---
WE'VE GOT FATHER'S DAY SORTED


Place your order very soon to allow for delivery by Father's Day.
---
OUR CELLAR DOOR TASTING IS A SEATED EXPERIENCE

As seating is limited, please pre-book your Cellar Door visit to avoid disappointment on arrival. Call us on 08 8563 2595 to book, and you might like to book in for one of these experences:-
Hosted by Jonathan and includes a tour
and tasting. $150 per person.
Allow up to 3 hours.




Hosted in the Freedom Room by our
experienced staff. $50 per person.
Allow an hour