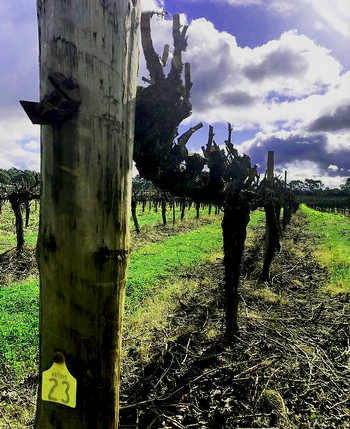 Langmeil Growers, the Fromm Family Mataro vineyard, Barossa.
Hello there
'What's in a name? That which we call a rose, by any other word would smell as sweet.'
So declares Juliet as she laments the name of her beloved in Shakespeare's Romeo and Juliet, a play that, beyond a love story, explores themes of value judgements and duality. The respective houses of Montague and Capulet chose to judge their children's love interests by the name they bear rather than the actual character of the individuals. How often are we guilty of the same when it comes to assigning pedigree to wine?
One of the delightful surprises from my recent Matter of Taste email has been the level of interest shown in the Resurrection Mataro. In addition to many, and often repeat purchases (you know who you are!), there has also been a myriad of questions about the grape itself, most of which relate to its many aliases; Mataró, Mourvèdre, Monastrell, Murviedro, and the value assigned to each. Acclaimed wine journalist, critic and author Jancis Robinson once quipped that 'Mataro is what someone calls Mourvèdre if they haven't a high opinion of it'. Highlighting the folly of preconceived judgements, in a recent Harpers UK article, Grape of the Sun, Master of Wine Peter McCombie wrote that 'Australians have suddenly realised that boring old Mataro was actually really quite exciting, glamorous Mourvèdre; and this has led to a bit of rediscovery of the fundamental quality of this grape.' So what are the fundamentals of the variety?
Mataro most likely originates from Sagunto in the Camp de Morvedre region in Valencia. Indeed, two of its most commonly used names derive from Spanish towns – Mataro, near Barcelona, and Murviedro, north of Valencia. Mourvèdre is assumed to be the French-adapted version of the same. Interestingly, the Spanish commonly refer to it as Monastrell, derived from the Latin monasteriellu, referring to the significant role of monasteries in the spread of viticulture in that part of Europe. Made famous by the wines of France's southern Rhône, Provence and Occitania regions, the variety's love of Mediterranean conditions saw it right at home in South Australia, particularly here in the Barossa. While Europe displayed Mourvèdre's potential to produce exceptional table wines, in Australia from the 1890s to the mid-1950s Mataro developed a workhorse reputation for its ability to make excellent fortified wine that proved popular both at home and in the export market. Unbeknown to many consumers, it has been a key component in some of South Australia's most famous fortified wines, including the legendary Seppeltsfield 100-Year-Old Para Tawny and Penfolds Great Grandfather.
Post 1950s saw the transition to table wines. While often utilised in many of these, it was more often as flavour and structure support to Shiraz and Cabernet Sauvignon than as a single variety. Thankfully as local winemakers, inspired by styles of the southern Rhône, began forging our oldest grown varieties into masterful creations, Mataro appeared on the radar of a new generation of wine appreciators. Being a wonderfully complementary grape, it plays a significant role in many blends, notably as the M in the classic GSM, but its deep crimson and purple hues, lifted aromas of red fruit and Turkish delight combined with a ranging palate of juicy plum, brambly spice and earthy tones make it a delightful medium-bodied wine in its own right.
From the same country as the grape in question, there is an old Spanish proverb that 'Good wine needs no crier' so in keeping with our recent theme of helping you make your own discoveries, this week we've put together a little exploration of Mataro and Mataro blends for your perusal. [Click HERE to discover].

¡Disfruta de tu vino!
Jonathan Bitter
Cellar Door Manager
---