Hello
On behalf of the Lindner family and the Langmeil Winery team, we wish you and your family the very best for the forthcoming festive season.
2021 was another year of challenges, but how we overcame them together has made us even more appreciative of the world in which we live. With so many things beyond our control, including the pandemic, trade disruption, and the weather, we can only try to remain positive in the face of adversity. At Langmeil Winery, due to the team's strength and your ongoing support, we are fortunate that we have been able to weather the storms, whatever they may be. Just so you know, we do not take your support for granted, and we are eternally grateful.
We have also enjoyed some tremendous achievements this year. Our winemaking team, led by Paul Lindner, received the Vinalies Wine of Show in France for the 2020 Spring Fever Chardonnay. The 2021 Three Gardens Viognier Marsanne Roussanne took out the Best Dry White Blend of Show trophy at the Royal Adelaide Wine Show, where the 2020 Rough Diamond Grenache also struck gold. Huon Hooke and The Real Review team ranked Langmeil Winery number six in its Top Wineries of Australia 2021. We received five stars in the Tripadvisor Travellers' Choice Awards 2021, placing us in the top 10% of worldwide attractions. Last and by no means least, the 2018 Valley Floor Shiraz was rated number two in the Vivino Community Awards 2021 for the top red wines under $50.
With 2021 coming to an end, it reminds us why we are in this family and community business. While we are one company, we stand united with so many in the Barossa and enjoy other's wines as much as our own. The region's strength is in our unity and collective passion for everything the Barossa stands for; it has helped shape who we are as people and as a business. After all, our company only reflects us and our philosophies.
As you know, Langmeil Winery is inclusive and makes wines that anyone from a student to a billionaire can enjoy. Everyone should be able to enjoy wine. It is one of life's simple pleasures to sit with family and friends, break bread and drink wine together, even more so when some have endured enforced separation from loved ones this year.
So as you sit down to enjoy your Christmas with your family and friends, we encourage you to reflect upon the past year and look forward to the year to come and work together so we all re-emerge better, stronger, and more connected to each other.
We wish you a very merry Christmas and a happy New Year.
Thank you and all the best,
Shirley, Paul and James Lindner and the Langmeil Winery family
---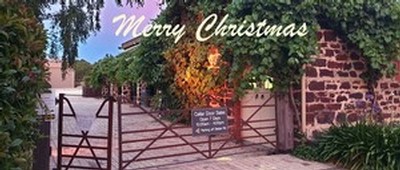 Cellar Door is open from 10am to 4pm daily, but will be closed on Christmas Day, Boxing Day and New Years Day over the festive season.
Bookings for tastings are preferred and will take precedence over walk-ins. Call on 08 8563 2595 or email HERE. We look forward to welcoming you.
---
The Special Offer Members Only page is HERE. While your order may not get to you before Christmas we will endeavour to despatch within 1 business day and hope for a speedy delivery.