The Real Review reveals:




2020 Three Gardens Viognier Marsanne Roussanne
and more winners
---
Our Cellar Door is open from 10am to 4pm 7 days a week.
Our tastings are a seated experience and numbers are limited so please book ahead to avoid disappointment.
Call 08 8563 2595 or email HERE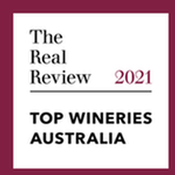 Hello
With the advent of various social media platforms and the twenty-four-hour news cycle, it seems these days more than ever that everybody has an opinion and is keen to share it! But as English author Douglas Adams (most famous for penning The Hitchhikers Guide to the Galaxy) warned, 'All opinions are not equal. Some are a very great deal more robust, sophisticated and well supported in logic and argument than others.'
In the world of wine, opinions don't come much more robust, sophisticated and well supported than those of Australian wine writer and critic Huon Hooke.
His list of credentials is exhaustive; Chair of the Vin de Champagne Awards, chair of Australia's Wine List of the Year, judge of the Australian Winemaker of the Year, founding chairman of the Australian and New Zealand Boutique Wine Awards and international wine judge officiating (pre-COVID) in a dozen or so competitions around the world each year. In addition, he writes for The Real Review, Decanter, Gourmet Traveller WINE and The Sydney Morning Herald. He has written many books, including co-authoring the Penguin Good Australian Wine Guide for 17 years and is highly respected by the wine community; he has been awarded Wine Communicator of the Year on several occasions. In 2016 he and Bob Campbell MW became the principal wine writers for The Real Review, a wine review website focussing on Australian and New Zealand wines.
Suffice to say, Huon's 'opinion' is held in high regard. As such, you can imagine our delight at Langmeil Winery to have The Real Review team rank us number six in their Top Wineries of Australia 2021. In typically understated fashion, Langmeil Winery Director of Winemaking and co-proprietor Paul Lindner commented that he was 'stoked' to receive such recognition for simply doing something he loves.
Therein lies the secret. There is genuine love in every wine Paul makes, and this is what Mr Hooke has recognised across the breadth of our range. So to celebrate a Top Ten appearance, share a little of Paul's love and help you form or reinforce your own opinion, this month we've put together a suite of offers based on a few of Mr Hooke's recommendations.
Kind regards as always,
Jonathan Bitter
Cellar Door Manager
Access the Special Offers page HERE. The Special Offers page is only accessible using the link and is not visable when visiting our website.
---
---

Join us during the month of August for ...a little more Barossa...! There's over 70 events across the Barossa and the full program can be viewed HERE
Langmeil will be showcasing the Freedom Experience with Jonathan at the helm!
1 session each Fiday in August from 10am to 12.30pm. (Friday 6th August already SOLD OUT). Tickets still available for the 13th, 20th and 27th August. Book your ticket HERE